RAY

Beauty Secret in my pouch.
A portable Skincare Beauty Device. Aesthetic design added to all functions like galvanic ions, micro-vibration, and titanium head.Ultra mini beauty device with essential beauty secret.
Iontophoresis Mechanism
The mechanism of penetrating ionic cosmetic ingredients deep into your skin by applying a small electric current and changing the electrical environment in your skin.
Galvanic (+) ion Iontophoresis Effect
Activate skin regeneration mechanism by friction of skin and tissues
Increase skin's metabolism by expanding capillaries and improving blood circulation
Muscle fatigue relief through the deep facial massage
Increase penetration of cosmetic ingredient deep into skin dermis
Micro Vibration Massage (10,000 times per minute)
The optimal vibration helps the muscle contraction and relaxation while improving deep massaging effect, blood circulation, and metabolism.
Yellow color LED helps to promote skin movement, skin muscle energy production, skin rejuvenation, and collagen effect.
3D curved head
Able to closely contact on the curved parts. Intensive massage on eyes, deep wrinkle, and small areas.
Auto-Run
Automatic massage action when it contacts skin. Easy to use.
Strap
Small enough to carry as an accessory. Easy to carry.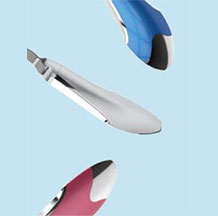 Aesthetic Design
Cool design with comfortable grip. Two-tone aesthetic color for head and body.