Stores user data, preferences and usage patterns to suggest the most useful options.
**Auto Cycle Link is only available when both the AirDresser and washer have Wi-Fi connected and are registered on the SmartThings application. A Wi-Fi connection is required at all times, which may increase energy consumption. Not available on certain models and in certain regions.
Deodorizes inside
Deodorizing filter
Keep clothes fresh by deodorizing inside the cabinet. A Deodorizing Filter captures and removes odor-causing gases released from clothes and stops them creating an unpleasant smell and causing secondary contamination. It eliminates 99% of odors,such as sweat,tobacco,roasting meat and dry cleaning*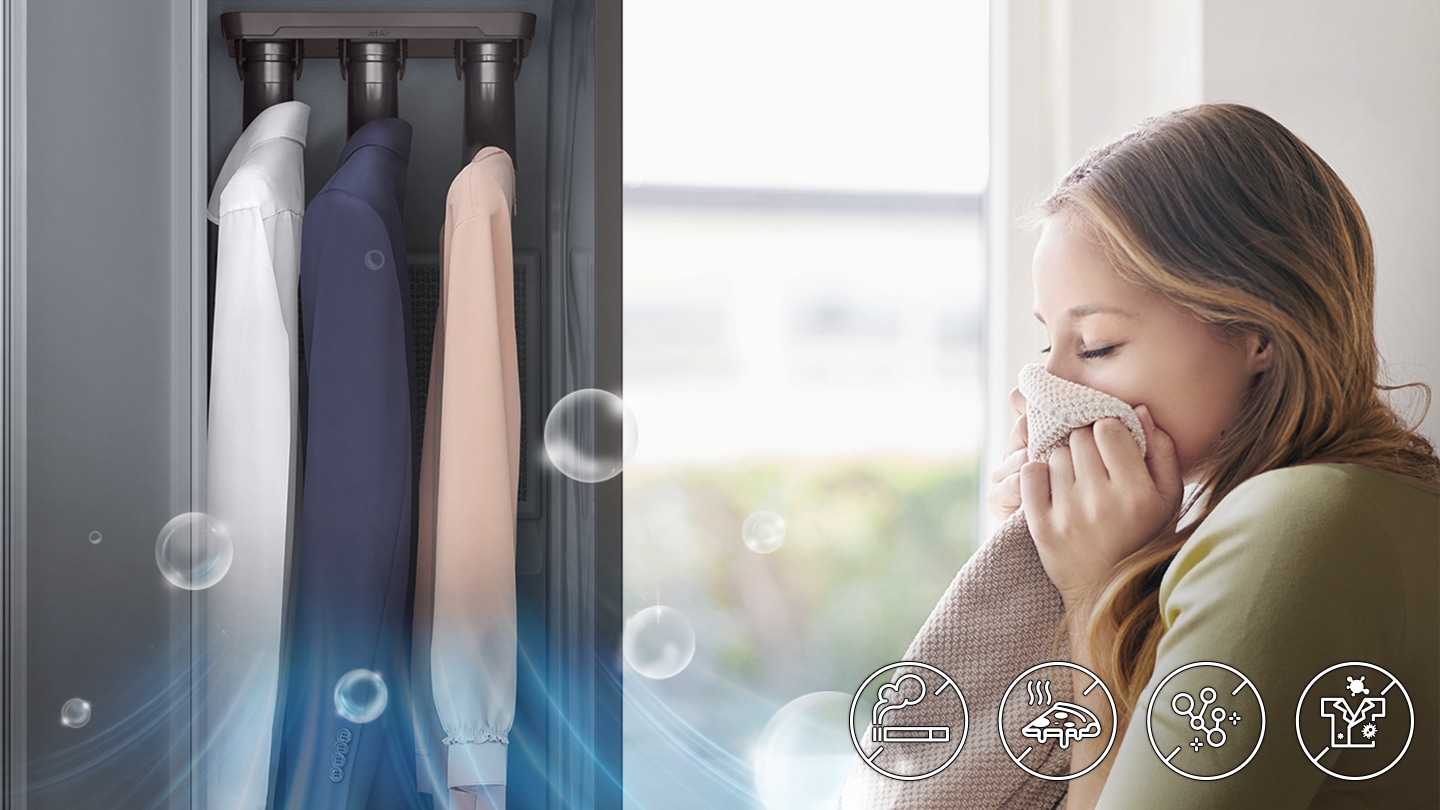 Eliminates bacteria
Sanitize
Sanitize and refresh your clothes, bedding and even baby clothes and soft toys, so they are safe to use or wear. The Sanitize function blows steam onto clothes and infuses high temperature heat deep into the fabric. It eliminates 99.9% of bacteria and viruses, as well as 100% of house mites*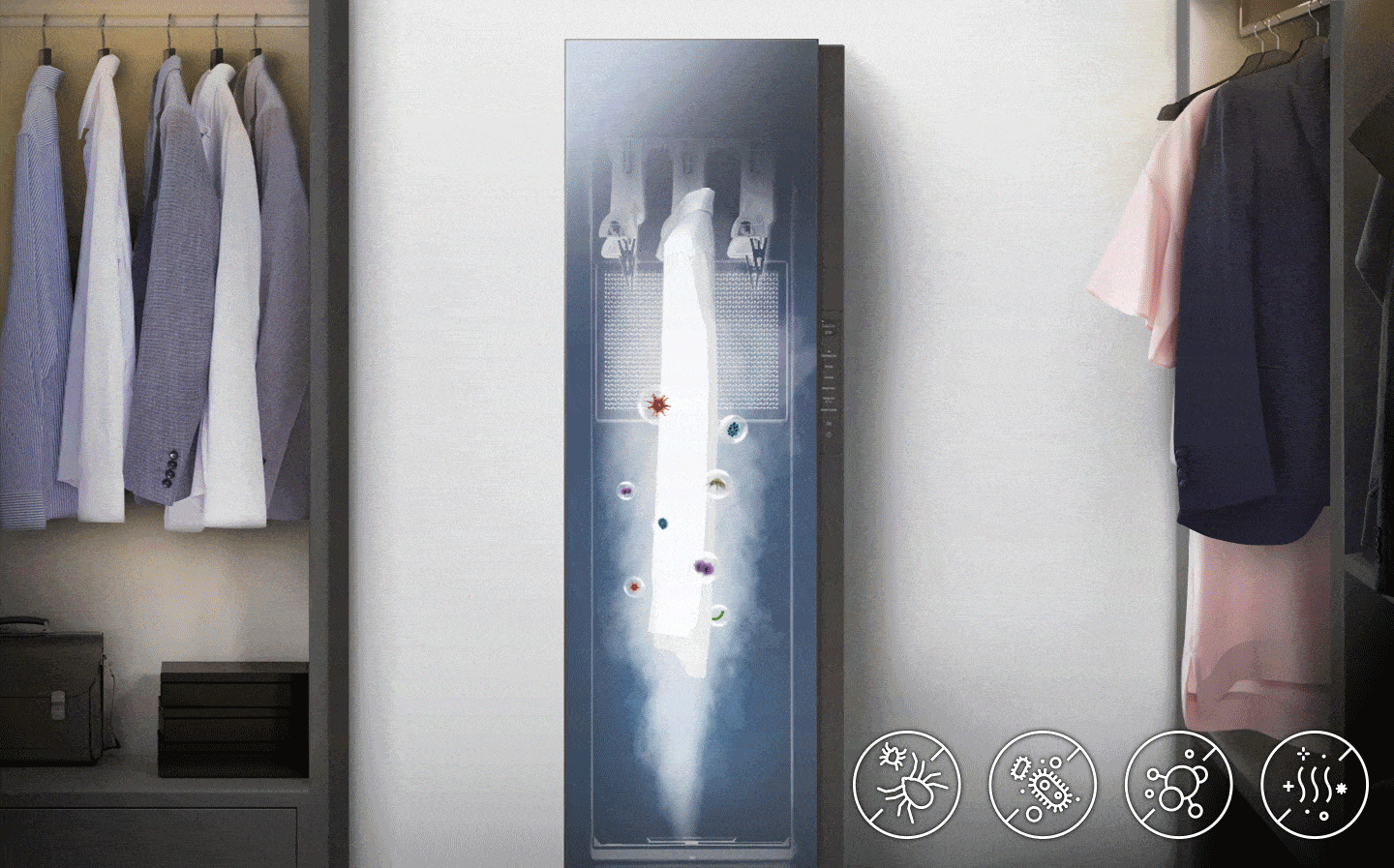 *Based on testing by Intertek. Eliminates: 1) 99.9% of viruses, including Coronavirus, Influenza A, Adenovirus, Herpesvirus, Norovirus, Rhinovirus and Hepatitis A. 2) 99.9% of bacteria such as Staphylococcus aureus, E. coli, MRSA, Streptococcus pneumoniae and Legionella pneumophilia. 3) 100% of house dust mites.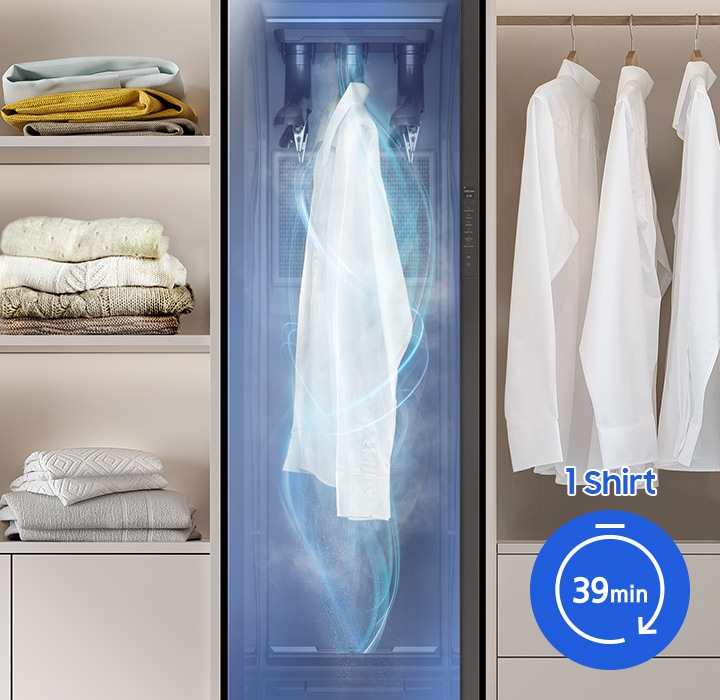 Optimized drying
AI Dry
Enjoy faster drying using AI Dry technology with a humidity sensor. By continually sensing the humidity of the clothes it accurately detects how much they have dried and intelligently reduces the drying time accordingly. So your laundry is always dried thoroughly in the shortest possible time.