The all-new Route Workout feature lets you import GPX format workout routes from your smartphone to your watch, syncing your route list. 1, 2
BATTERY
Power through
your workout
Go hard knowing that your watch can keep up, with the biggest battery capacity among our wearable series. 1, 2, 3, 4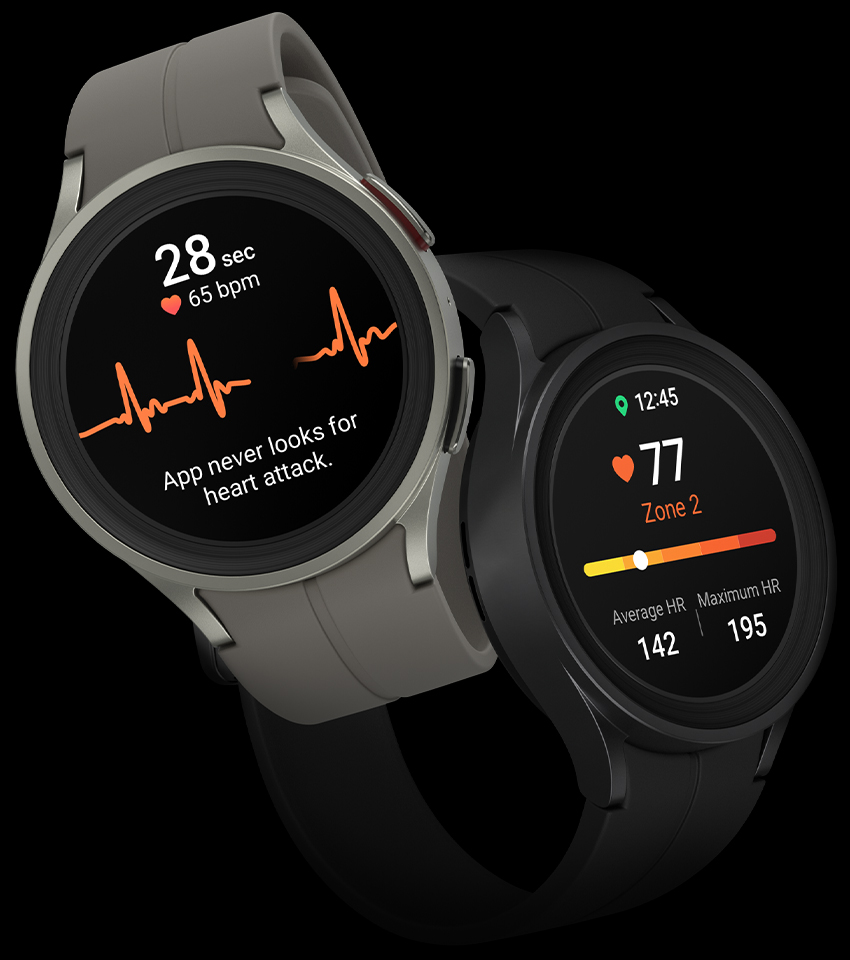 BIOACTIVE SENSOR
Never miss a beat
The powerful 3-in-1 Samsung BioActive Sensor controls three health sensors: Monitor your heart rate and track your cardiovascular health to detect unusual heart rates and blood pressure. The BioActive Sensor can also record your blood pressure. 5, 6, 7, 8, 9, 10, 11, 12, 13, 14
FITNESS
Watch the
gains add up
Provided when GPX format route file is imported for hiking and cycling and route is set as target under Samsung Health settings.
Requires to be enabled during every hiking or cyclying workout under Samsung Health settings.
Actual battery life varies by network environment, features and applications used, frequency of calls and messages, number of times charged, and many other factors.
The typical capacity has been tested under third party laboratory conditions. The typical capacity is the estimated average capacity considering the deviation in battery capacity among the battery samples tested under the IEC 61960-3 standard.The rated capacity is 573mAh for Galaxy Watch5 Pro, 398mAh for Galaxy Watch5 Large, and 276mAh for Galaxy Watch5 Small. Actual battery life may vary depending on the network environment, usage patterns, and other factors.
DO NOT measure your body composition if you have an implanted pacemaker or other implanted medical devices.
DO NOT measure your body composition if you are pregnant.
Measurement results may not be accurate if you are under 20 years old.
All features and UI are subject to change.
Blood pressure feature is not intended for use in the diagnosis of disease or other conditions, or in the cure, mitigation, treatment or prevention of disease.
Intended for general wellness and fitness purposes only. Not intended for use in detection, diagnosis, treatment, monitoring or management of any medical condition or disease. Any health-related information accessed through the device and/or application should not be treated as medical advice. Users should seek any medical advice from a physician.
ECG and BP feature only to be used by 22 years+. For accurate BP readings, a calibration is required every 4 weeks by BP monitor & arm cuff. Requires a Galaxy smartphone running Android 7.0 or above.
Users should measure their blood pressure when at rest, as they would do with a traditional cuff, and refrain from measuring when they are working out, smoking, or drinking.
ECG and blood pressure feature may vary by country or region. Due to country restrictions in obtaining approval/registration as a medical device, ECG and blood pressure only work on watches and smartphones purchased in the countries where service is currently available (however, service may be restricted when users travel to non-service countries). Check out https://www.samsung.com/apps/samsung-health-monitor for more information and latest update on service countries.
Body comosition is supported in Samsung Galaxy Watch4 series and later released Galaxy Watch models only.